One of the most common questions potential home sellers ask is, "when is the best time to sell a house?" The answer depends on various factors. Those factors can include personal circumstances, market conditions, and seasonality, to name a few. In my recent article on The Myth of the Below List Price Bargain, I talked about how critical timing can be in real estate. In fact, I said if the first three rules of real estate are "location, location, and location", then the next three are "timing, timing, and timing." Join me as we cover the key factors that determine the best time to sell. My analysis includes data from a recent study that covers the best seasons, months, and even specific days to sell a house.
Personal Circumstances Often Determine the Best Time to Sell
Everyone wants to sell at the most strategic and advantageous time, but life often has other plans. Personal circumstances such as divorce, death of a family member, changes in employment status, financial stress, or a relocation often trump more strategic timing considerations.
If changes in your life necessitate selling your home, factors like what season it is or what the real estate market is doing may not matter as much, if at all. However, if a significant change is forcing you to sell, sometimes you might still have flexibility in optimizing the best time to sell. While it is impossible to predict the real estate market, market conditions can be another important factor in optimizing the best time to sell your home.
Market Conditions and Timing of an Ideal Sale
Timing can make or break a home sale. What your local real estate market is doing can be a vital factor to consider as you contemplate when to sell. If your local market is in an extreme buyer's market, that can definitely make selling less appealing. That is especially true if you might be faced with taking a loss on your home sale. In those scenarios, delaying listing your house and/or renting out your home for a while can be alternatives to selling in an unfavorable market.
However, delaying in an unfavorable market isn't always ideal either. If you know you will need to sell in the near term, selling now might simply avoid additional losses if the market continues on a downward trend. A buyer's market also likely means you should factor in more time to complete your sale.
If your local real estate market is a booming seller's market, then selling is often far more appealing. You can avoid the stress of being a landlord and sell in market conditions that favor sellers vs buyers. Although selling early in a seller's market might mean you miss some potential appreciation, trying to time the market for the exact top is a tricky proposition. If your market is strong, it may be wise to strike while the iron is hot. Delaying your sale could push you into less favorable market conditions.
Thanks to the cyclical nature of the real estate market, sometimes a market is in a clear transition. For example, if inventory is increasing, demand is going down, and the average time on the market is going up as well, you may be in a market transitioning from a seller's market to a buyer's market. In that scenario selling sooner can be a prudent move. On the other hand, if inventory is falling, demand is increasing, and the average time on the market is shortening, then the market might be heating up. Waiting for it to potentially heat up more, or simply listing asap might be the most prudent.
The Best Time of Year to Sell A House
Once you have decided to sell, knowing the best time of year to sell a house can help you maximize your outcome. While a number of factors go into the best season to sell your house in, the weather may not be the biggest influence. Most buyers tend to do their househunting in spring and summer.
For buyers with kids, spring and summer represent the most convenient time to consider a move. Even when kids are not a factor, many sellers prefer to move in spring and summer. In short, buyer demand tends to be most intense in late spring and early summer. All other things being equal, if you are deciding between listing your home in the fall/winter vs spring/summer, the latter is the clear winner on the best time of year to sell a house. Higher demand will typically equate to a faster sale and a stronger sales price.
The Best Month to Sell a House
Attom, a data company focused on real estate, recently released an analysis of the best days of the year to sell a home. The analysis looked at over 46 million single family and condo home sales spanning 2011 to 2021. According to Rick Sharga, executive VP of market intelligence at ATTOM, "Homeowners looking to maximize the price premium they can claim on their homes should sell their properties in May, June, and July when buying activity is at its peak."
According to the Attom study, the months realizing the greatest seller premiums were May (12.6 percent), June (10.7 percent) and July (10 percent). March and April were not far behind. The two least optimal months were November and October.
The Best Dates to Sell a House
Attom's study even found specific days carried a higher seller premium than others, with the top 15 of those best days to sell a house occurring in May. The top five days to sell were May 23rd, May 27th, May 16th, May 20th, and May 19th. While it is not practical to sell your home on a specific day, if you are highly focused on optimizing your listing in Spring, you might consider listing the average number of days on market before these optimal dates in May.
Does all this mean you definitely should not sell your home in a different month, or October through January? That depends a lot more on the personal circumstances and market conditions discussed above. But it also can depend on where you live, and the weather.
Is the Best Time to Sell a House in California the Same as in Minnesota?
The seasonality discussed above mostly focused on buyer demand, but what about the weather? It does not take a data expert to see that the optimal times to sell also seem to correlate with warmer weather. In some parts of the country, extreme weather may mean that home sales virtually shut down during winter months. Resort destinations with very distinct peak seasons for visitors and with high percentages of second homes may also have very distinct months when most sales happen. In those scenarios, strategically timing your listing can be mission-critical.
Here in sunny San Diego, a significant number of sales occur every calendar month. Sellers here don't need a snowblower to clear a path to the front door. Despite our lack of actual weather, late spring and early summer are still considered to be the most ideal times to sell a house in San Diego. The graph below of sold listings in San Diego shows how significant seasonality can be. But even with the dramatic graph, thousands of sales are still happening in the month with the fewest sales in San Diego (usually November).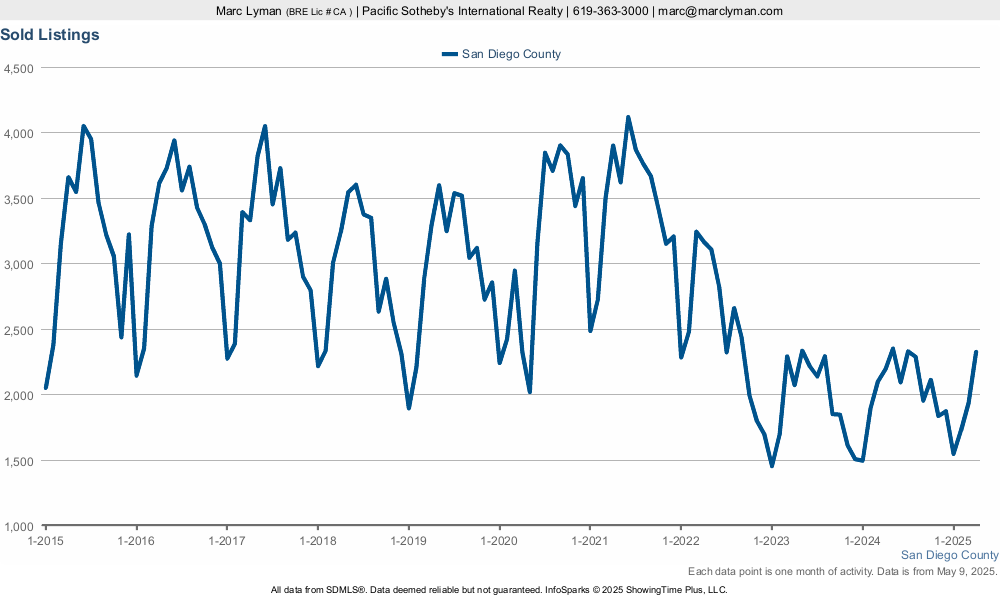 Although the graph above paints a picture for number of transactions, the graph below tells the story of how close to list price sales in each month are. Here, you will see houses selling in the spring and summer months typically sell for a stronger sales price than those in the winter months.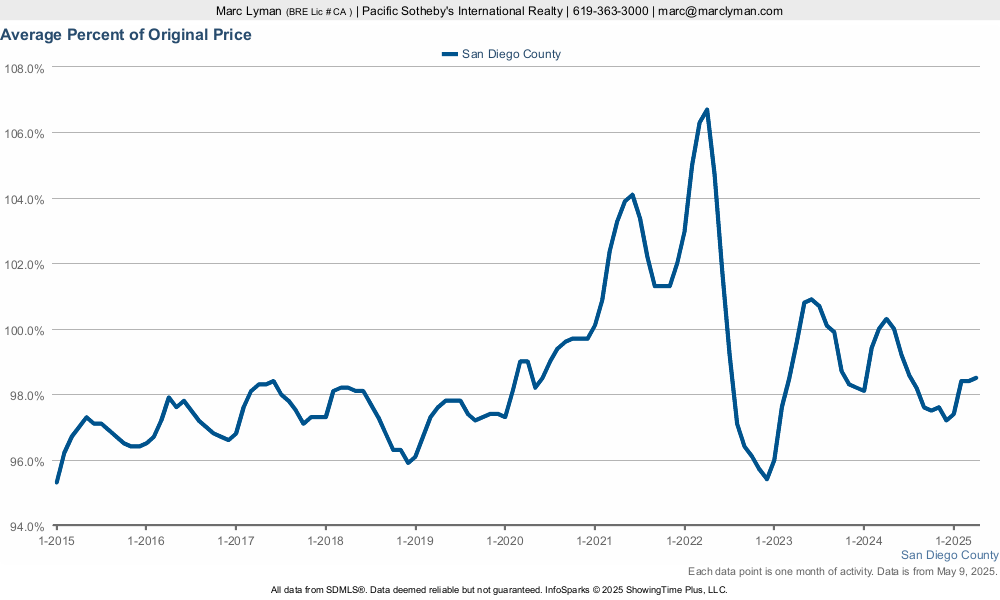 Taking a Holistic View of The "Best" Time to Sell
With data as granular as the "best" days to sell your house, it is easy to get caught up in strategic timing. In my experience, the overall timing of your sale relative to your personal circumstances is far more important. If you have decided to sell and have flexibility in your timing, I hope the information above provides some insights and potential strategy. However, if you have a strong desire to sell for whatever reasons, don't let precise timing hold you back from doing what you need to do.
Are You Considering Selling or Buying in San Diego?
Whatever the season might be, if you don't already have an agent looking out for you, please reach out to me. Even if you are not in San Diego, I regularly refer to outstanding Sotheby's International Realty agents as a free courtesy. Our network encompasses 25,000 sales associates in 1,000 offices throughout 70+ countries. Please let me know if I might be able to assist you. You can find chat, phone/text, and email contact information below. I look forward to hearing from you!